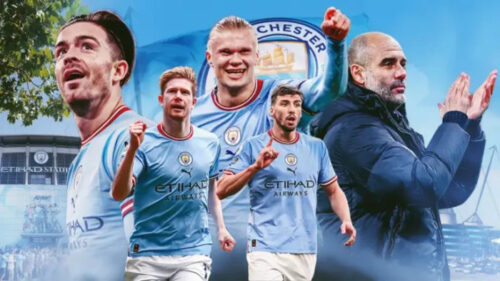 Manchester City has long been touted as one of the most talented football teams in the world. They have dominated the domestic scene in recent years, winning numerous titles in the Premier League and domestic cups.
However, one trophy has eluded them: the Champions League. Despite several valiant attempts, City has failed to claim the prestigious European title. But this season, the stars seem to be aligning for City, and they may finally be ready to claim Champions League glory. Here are six reasons why:
1. Haaland's Appetite for Champions League Goals:
Erling Haaland is widely regarded as one of the most talented young footballers in the world. His appetite for goals is unrivaled, and he has already proven himself in the Champions League. Haaland has scored 20 goals in 14 Champions League games, and his addition to City's already formidable attacking lineup could be the key to their success.
2. Guardiola is in His Element: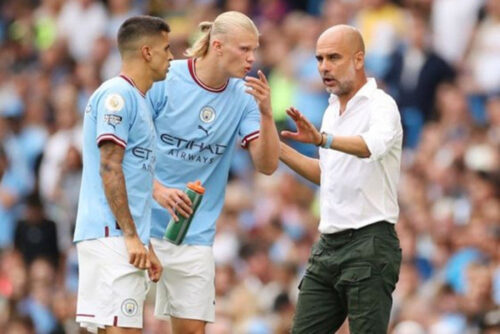 Pep Guardiola is one of the most successful coaches in football history, and he has a proven track record of success in the Champions League. Guardiola has won the competition twice before, and his tactical genius and experience could be the difference maker for City.
3. Ruben Dias is Back to His Best:
Ruben Dias had a breakout season last year, helping City win the Premier League title and being named the Premier League Player of the Year. However, his form dipped earlier this season. But now, he seems to be back to his best, and his leadership and defensive skills could be crucial to City's Champions League campaign.
4. De Bruyne is Back in Form:
Kevin De Bruyne is one of the most talented midfielders in the world, but he has struggled with injuries this season. However, he is back in form and is once again proving to be a crucial player for City. His creativity and vision could unlock even the tightest of defenses.
5. Jack Grealish 2.0:
Jack Grealish was one of City's biggest signings of the summer, and he has already shown his quality in the Premier League. However, he is yet to make a significant impact in the Champions League. But with time, he could prove to be a key player for City, and his ability to create chances and score goals could be crucial in their quest for Champions League glory.
6. Real Madrid their Only Real Competitors: While there are several talented teams in the Champions League this season, Real Madrid is perhaps City's biggest threat. However, City has already beaten them once this season, and they will be confident of doing it again if they meet later in the competition.
In conclusion, Manchester City has all the ingredients to finally claim Champions League glory this season. With an exceptional squad, a tactical genius of a coach, and several key players hitting top form, City looks poised to claim the prestigious European title. If they can maintain their consistency and avoid any slip-ups, this could be the season that City's Champions League dream becomes a reality.