In a heroic rescue effort, dozens of snakes were saved from an abandoned well in a remote village. The rescue operation was carried out by a team of wildlife experts who were alerted to the situation by concerned villagers.
The well, which had been abandoned for years, had become a death trap for the snakes that had fallen into it. The snakes were unable to climb out of the well and were slowly dying due to lack of food and water.
The wildlife experts, who were part of a local conservation group, immediately sprang into action. They arrived at the site with all the necessary equipment and began the rescue operation.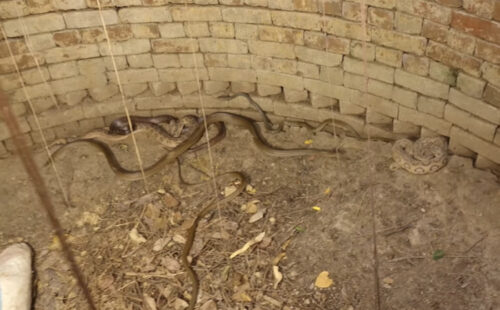 The team used a specially designed snake hook to carefully lift each snake out of the well. The snakes were then placed in a large container and transported to a nearby forest where they were released back into the wild.
The rescue operation lasted for several hours, and in the end, over 50 snakes were saved. The team also took the opportunity to educate the villagers about the importance of conservation and the need to protect wildlife.
The heroic rescue effort has been widely praised by animal lovers and conservationists around the world. It is a reminder of the importance of protecting our wildlife and the need to take action to prevent such incidents from happening in the future.
The rescue of dozens of snakes trapped in an abandoned well is a testament to the dedication and commitment of wildlife experts who work tirelessly to protect our planet's biodiversity. It is a reminder that we all have a role to play in conservation efforts and that every action we take can make a difference.