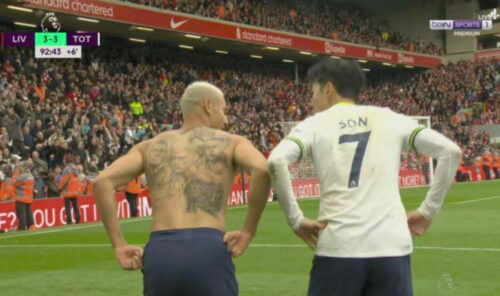 Brazilian striker Richarlison had his moment of glory in the English Premier League, scoring his first goal of the season in the 34th round against Tottenham.
However, his joy was short-lived as fellow Brazilian Lucas Moura made a defensive error that allowed Liverpool to score the winning goal just 99 seconds later.
Richarlison's goal came in the 90th minute of the game, when he equalized the score at 3-3 with a header. The former Everton player was so excited about the goal that he took off his shirt to celebrate and even put his hand to his mouth to mock Liverpool fans.
He also danced with Son Heung-min, the player who provided the assist for his goal.
However, Richarlison's happiness was short-lived. In the next round of play, Liverpool scored their fourth goal of the game, leaving Tottenham with a 4-3 defeat. The person who gave the assist for Liverpool's goal was none other than Lucas Moura, who had accidentally returned the ball awkwardly.
Despite the disappointment of the defeat, Richarlison swapped shirts with Liverpool players after the game, ignoring the criticism from Tottenham fans. This was not the first time the Brazilian had upset Spurs supporters, as he had previously swapped shirts with Joelinton during a defeat against Newcastle.
Despite the loss, Tottenham put up a commendable performance against Liverpool. They were down 3-0 after just 15 minutes of play, but were able to equalize the score and only lost due to a personal mistake in injury time.
The result leaves Liverpool in fifth place with 56 points, still seven points behind the Champions League position. As for Richarlison, he will hope to build on his goal-scoring momentum in the remaining games of the season, and perhaps help his team climb up the league table.
Overall, the game between Tottenham and Liverpool was a thrilling encounter, with several twists and turns throughout. It was a reminder of the unpredictable nature of football, and the joy and disappointment that it can bring in equal measure.