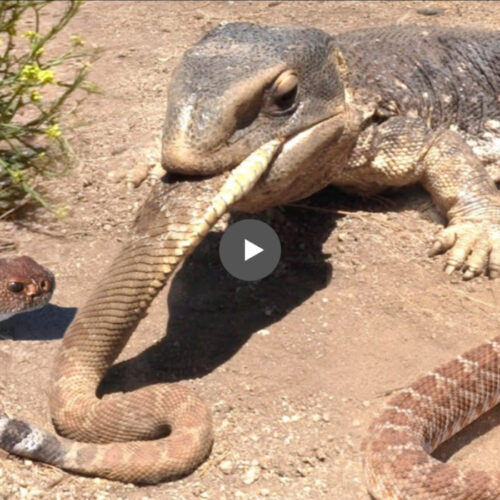 In the wild, it's not uncommon for predators to face off against each other in a deadly showdown. One such encounter recently took place between a lizard and a rattlesnake, resulting in a tragic end for the unlikely predator.
The incident occurred in the Sonoran Desert, where both the lizard and the rattlesnake are common inhabitants. The lizard, a chuckwalla, was basking in the sun when it was suddenly attacked by the rattlesnake.
Despite its small size, the rattlesnake is a formidable predator, armed with venomous fangs and a powerful strike. The chuckwalla, on the other hand, is a herbivorous lizard that relies on its speed and agility to evade predators.
In this particular encounter, however, the chuckwalla was caught off guard and unable to escape the rattlesnake's deadly strike. The venom quickly took effect, paralyzing the lizard and causing it to go into convulsions.
The rattlesnake, sensing its prey was incapacitated, began to swallow the chuckwalla whole. It's a gruesome sight, but one that's all too common in the wild.
While it may seem like a tragic end for the chuckwalla, it's important to remember that this is simply the way of nature. Predators and prey are in a constant battle for survival, and sometimes the outcome is not in favor of the weaker animal.
In fact, this encounter serves as a reminder of the importance of balance in the ecosystem. Without predators like the rattlesnake, herbivores like the chuckwalla would quickly overpopulate and wreak havoc on the environment.
So while it may be difficult to watch, it's important to remember that these deadly showdowns are a necessary part of the natural world. And while the chuckwalla may have lost this battle, its legacy will live on through the countless offspring it left behind.