No one expected, Lionel Messi's house on the outskirts of Paris has turned into a camping site with a hammock for 10 hours of a crazy fan named Juan Polcan. To the extent that Messi's defense threatened to call the police to intervene from this 'siege'.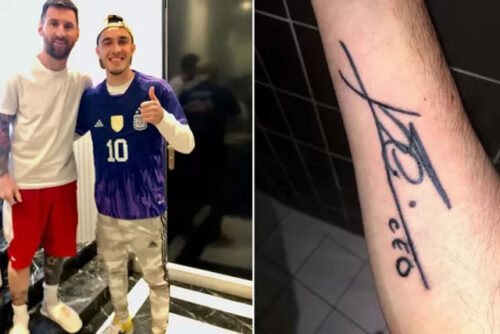 Juan Polcan, a semi-professional indoor soccer player in Italy and a huge fan of Messi, has shown a strange admiration for the PSG star.
Along with some friends, Juan decided to go from Italy to France to… camp right outside the house of the Argentine star, after trying to find the address.
Suddenly a few strangers came to camp in a hammock for 10 hours right in front of the house, Messi's security raised his vigilance and threatened to call the police.
Fortunately for Juan, Messi's wife Antonella Roccuzzo handled everything very reasonably. After announcing Messi was on his way home from training, Antonela stepped out and invited Juan's team into the house.
The unexpected reaction from Messi's wife made Juan emotional. Juan's wait of more than 10 hours paid off when the crazy fan was received by Messi at his home and photographed with his idol, and received an autograph that he had tattooed right away. arm to capture that emotional moment.
"Dreams come true and today I have fulfilled the dream of my life. Messi is the best in history, but most of all, an extraordinary person, and so is Antonella, who gave me the opportunity to come into the house to meet Messi. Messi's humility and simplicity is second to none," Juan shared on Twitter, "I write this with tears and emotion, my whole body still shaking with emotion. I love Messi and thank him for this unforgettable moment."