Crocodiles and snakes are two of the most feared predators in the animal kingdom. Both are known for their unique hunting techniques and deadly attacks. When these two predators meet, it is a battle of strength and strategy that can be fascinating to watch.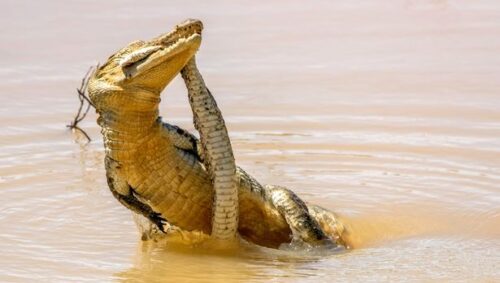 Crocodiles are known for their powerful jaws and sharp teeth, which they use to catch and kill their prey. They are also excellent swimmers, making them a formidable opponent in the water. Crocodiles are ambush predators, meaning they wait for their prey to come close before attacking. They can stay underwater for up to an hour, waiting for the perfect moment to strike.
On the other hand, snakes are known for their speed and venomous bites, which they use to immobilize their prey. Snakes are also excellent climbers and can move quickly on land. They use their sense of smell to track their prey and can strike with lightning speed.
When a crocodile and a snake meet, it is usually in the water. The crocodile will use its powerful jaws to try and catch the snake, while the snake will use its speed and agility to avoid being caught. If the crocodile manages to catch the snake, it will use its teeth to crush the snake's body and kill it.
However, snakes are not defenseless against crocodiles. Some species of snakes, such as the water snake, have developed a unique defense mechanism. They can inflate their bodies with air, making it difficult for the crocodile to swallow them. Other species of snakes, such as the king cobra, are venomous and can deliver a deadly bite to the crocodile.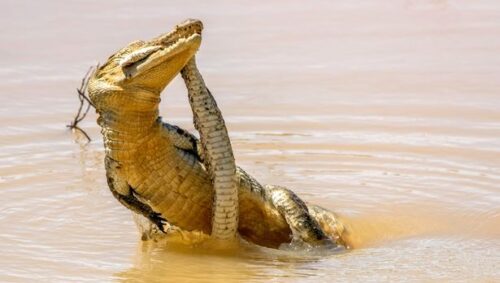 In conclusion, the battle between a crocodile and a snake is a fascinating display of strength and strategy. Both predators have unique hunting techniques and deadly attacks. While the crocodile may have the advantage in the water, snakes have developed unique defense mechanisms to protect themselves. It is a battle that can go either way, and it is always exciting to watch.