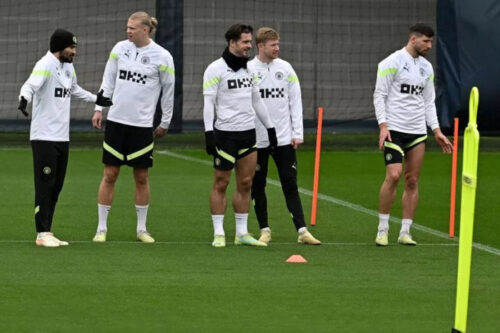 Manchester City is gearing up for a highly anticipated clash with Real Madrid in the Champions League semi-final first leg. The team enjoyed their final training session in Manchester on Monday morning before heading to Spain for the game.
Pep Guardiola's side is hoping to impress in Madrid ahead of next week's second leg at the Etihad Stadium. The winner of this matchup will face either Milan or Inter in the final in Istanbul on June 10.
City is heading into the game with confidence, having won 10 straight Premier League matches and impressive Champions League overall wins over RB Leipzig and Bayern Munich in the knockout stages so far this season.
However, the team knows that this means very little in this match, when the two strongest teams in Europe meet.
The Santiago Bernabeu is one of football's greatest cathedrals, and City is ready to face the reigning European champions in this European heavyweight clash. The team will spend Monday night in Madrid before the thrilling match on Tuesday.
City has made it to the last four for the third consecutive season, and the team is determined to make it to the final this year.
The players have been working hard in training, and they are ready to give their all on the pitch.
The match against Real Madrid is expected to be a tough one, but City is up for the challenge. The team has been preparing for this moment all season, and they are ready to show the world what they are capable of.
Fans can follow the match on the official City app, and they are sure to be on the edge of their seats as the two teams battle it out for a place in the final.
City fans around the world are hoping for a victory, and the team is determined to deliver.