In the context of escalating tensions, the Brazilian striker is said to have made a move to "add fuel to the fire" when clicking like a message criticizing PSG fans.
After PSG fans gathered at the team's headquarters to protest against Lionel Messi and also went to Neymar's home to ask the Brazilian striker to leave the team, a post on social media appeared to criticize the group. this fan.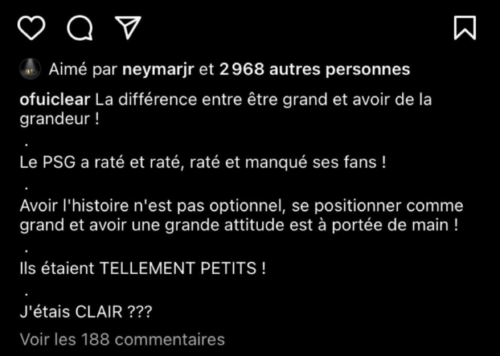 Accordingly, the group of PSG fans above was called "minority", "lack of stature" and "with mental problems because of thoughtless actions". Notably, Neymar's social media account liked this post.
Neymar personally also posted a message with the content: "Don't let people push you into their storm, let your peace invade them".
Neymar is a top-class player but constantly has physical problems. On February 19, the 31-year-old star suffered a serious injury, had to go to the operating table and rest for the rest of the season.
Statistics show that Neymar has missed more than 100 matches since arriving at Parc des Princes in 2017 due to various problems. Therefore, PSG fans have a reason to be bored with Neymar.
Neymar's contract at PSG is valid until the summer of 2025. "The rich guy" of French football is ready to sell the 31-year-old striker if the price is right. The liquidation of Neymar in the summer also aims to balance the PSG salary fund.
The Brazilian striker receives 40 million euros/season, the salary can be considered disproportionate to what he contributes to the French club.
Le Parisien believes that Neymar's price tag can reach 90 million euros. The reason is that the contract between PSG and the former Barcelona star is still valid until 2025.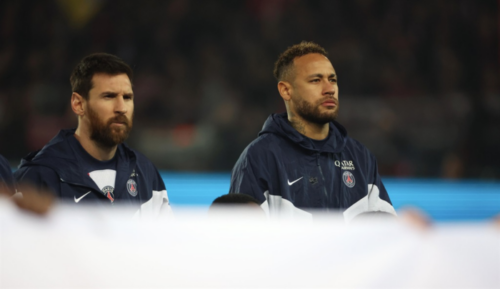 In addition, the teams also have to spend a large amount of money to pay the star's salary. And Neymar himself certainly does not want to reduce his salary if he leaves Parc des Princes.