Belgian footballer Thibaut Courtois and Israeli model Mishel Gerzig are enjoying a romantic vacation in Israel after announcing their engagement earlier this month.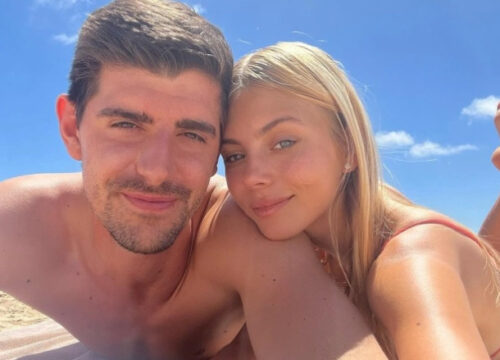 The couple has been sharing pictures and videos of their trip on social media, giving their fans a glimpse into their luxurious getaway.
One of the highlights of their trip was a visit to the Dolphin Reef Beach, where they got to interact with the friendly sea creatures.
Gerzig shared a picture of the couple patting the dolphins, describing the experience as "magical". The couple also shared pictures of their stunning surroundings, which included a picturesque beach and crystal-clear waters.
Courtois, who plays as a goalkeeper for Real Madrid and the Belgium national team, proposed to Gerzig on a yacht earlier this month.
The couple announced their engagement on Instagram, where they first met. Gerzig shared a picture of the proposal and wrote, "Yessss to a lifetime with you."
The vacation in Israel is a well-deserved break for Courtois, who recently helped Real Madrid win the Champions League for the first time since 2018.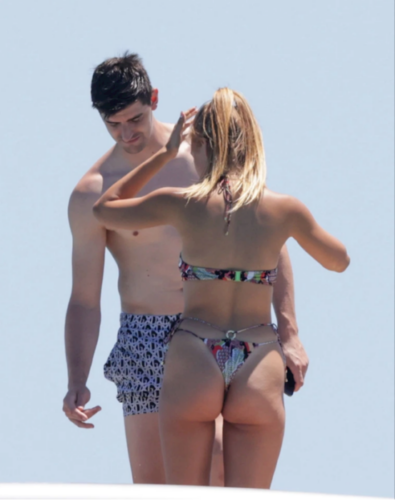 The goalkeeper produced a standout performance in the final, making a number of crucial saves to deny Liverpool and secure a 1-0 victory for his team.
The couple's vacation in Israel has also given them a chance to relax and unwind after a busy year. Gerzig, who is a successful model and influencer, has been sharing pictures of herself lounging on the beach and soaking up the sun.
Meanwhile, Courtois has been enjoying some downtime with his fiancée, taking in the sights and sounds of Israel.
Overall, the couple's vacation in Israel has been a romantic and picturesque getaway, giving them a chance to celebrate their engagement and enjoy each other's company in a stunning setting.
Their trip has also given their fans a chance to share in their joy and excitement as they embark on a new chapter in their lives together.