If you're looking for a nail design that's both magical and festive, look no further than star nails! Stars are a versatile and fun design element that can be incorporated into any nail style, from simple and understated to bold and intricate.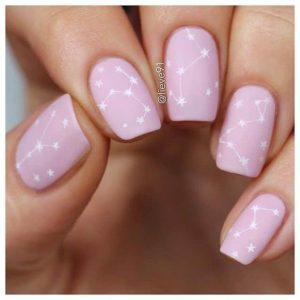 Whether you're going for a celestial-themed manicure or just want to add a touch of sparkle to your look, star nails are a great choice.
One of the best things about star nails is that there are so many different ways to incorporate them into your manicure. \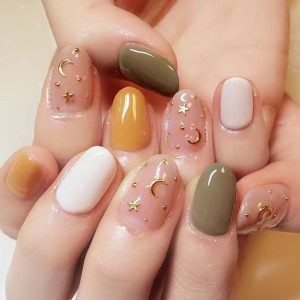 For example, you could opt for a simple and subtle look by painting small stars onto a nude or pastel base. Or, if you're feeling bold, you could go for a full-on celestial look with a deep navy blue or black base and plenty of glittery star accents.
Another great option for star nails is to incorporate them into a larger design, such as a galaxy-themed manicure or a zodiac-inspired look.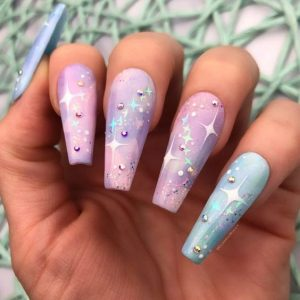 Constellations, shooting stars, and starbursts are all popular design elements that can be incorporated into a star-themed manicure, and they look especially stunning when paired with dark, moody colors like deep blues and purples.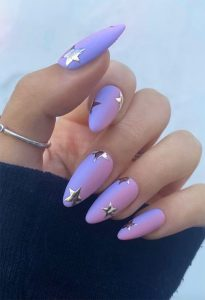 Of course, you don't have to stick to just one type of star design – mixing and matching different types of stars can create a truly unique and eye-catching look.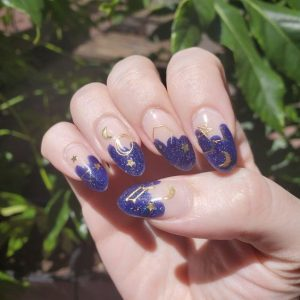 For example, you could pair a glittery, bejeweled star accent nail with simpler, more understated star designs on your other nails. Or, you could create a playful and fun look by using stars of different sizes and colors on each nail.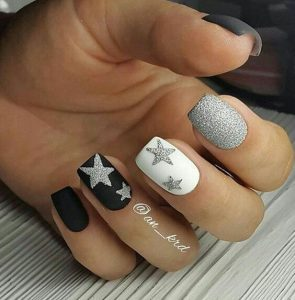 When it comes to creating star nails, there are a few key tips to keep in mind. First, make sure to choose a base color that complements the star design – if you're using lots of glittery stars, for example, you may want to opt for a darker base color to really make the stars pop.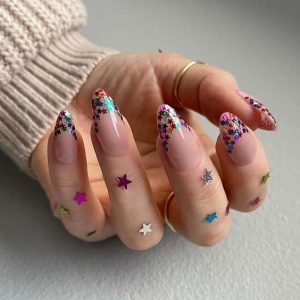 Additionally, using a fine-tipped brush or a toothpick can help you create precise, sharp star shapes.
Overall, star nails are a fun and versatile nail design that are perfect for adding a touch of sparkle and magic to any outfit.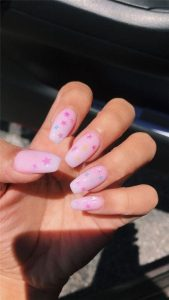 Whether you're going for a subtle and understated look or a bold and eye-catching design, there are countless ways to incorporate stars into your manicure. So why not give this trend a try and let your nails shine like the stars above?