Summer is here and what better way to show off your fresh manicure than with some beach-inspired nails?
From classic blue and white designs to bold tropical colors, we've got over 35 gorgeous beach nail ideas to help you get into the vacation spirit.
When it comes to beach nails, the theme is all about capturing the colors of the ocean, sky, and sand. Think deep blues, shimmery whites, warm sands, and colorful sunsets.
No matter what shape or length your nails are, there's a perfect beach manicure for you.
For a classic and timeless look, try a blue and white ombre design with glitter accents. Or, add some fun and whimsy with a colorful palm tree or flamingo design.
Feeling bold? Go for a full-on tropical look with bright and vibrant colors like coral, turquoise, and yellow.
But why stop at just one design? Mix and match your favorite beach-inspired elements for a fun and eclectic look.
Combine stripes, dots, and glitter for a playful beach party vibe. Or, add some sparkle with sea-inspired accents like seashells, starfish, and pearls.
Not sure where to start? Check out our water-spotted beach nail tutorial for a step-by-step guide on how to create this trendy look at home.
With just a few simple tools and some nail polish, you'll have a chic and stylish beach manicure in no time.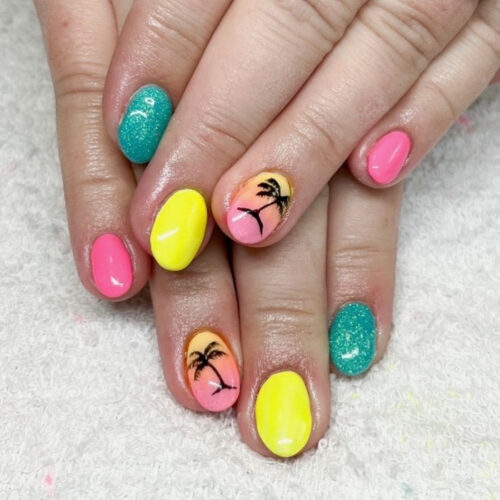 So, whether you're planning a beach vacation or just want to bring a little bit of the beach to your everyday life, these beach nail ideas are the perfect way to add some fun and flair to your summer style.