There is no definite conclusion, but striker Marcus Rashford will have to miss some upcoming matches of MU. Which matches is Rashford at risk of missing? And who can replace the English striker?
What matches does Rashford have to miss?
Rashford suffered an adductor muscle injury in the match against Everton. After a spurt of speed, he immediately signaled for a substitution, and was withdrawn shortly after. Coach Erik ten Hag said after the game that Rashford's injury was the inevitable consequence of playing with the intensity of "three games in six days", but he himself did not know his beloved striker had to rest. how long do you play?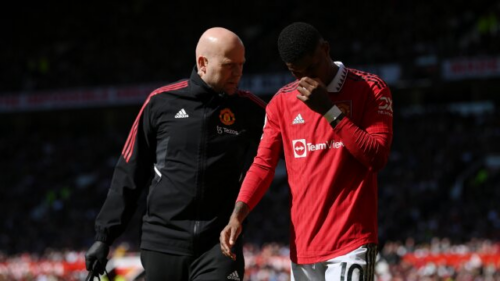 Rashford himself wrote on Twitter that he was "working with the medical team to be able to return soon", but when soon he did not specify.
There are predictions, based on Rashford's reaction to the injury, that say Rashford is in danger of being out for about three and a half weeks. If this is true then Rashford will be sidelined for at least eight Man United matches.
In addition to the two Europa League quarter-finals against Sevilla will be the FA Cup semi-final against Brighton on April 23, and besides that, there are 5 Premier League matches against Nottingham (April 16), Tottenham (April 27). , Aston Villa (April 30), Brighton (May 4) and West Ham (May 7). He can only return from the Europa League semi-finals, of course, in the event that Man United overcomes Sevilla.
It is clear that Rashford has "chosen" to lie down at the wrong time. Whether or not Man United can add any more trophies, and even if they make it into the top four, all depends on the results they get during that period. But right at that time of boiling water, the team's number one striker could not attend.
How will MU replace Rashford?
It must be affirmed that with Rashford's form and influence on MU's attack this season, a 1-1 replacement is not feasible. Since the World Cup, Rashford has been one of the best-performing strikers in Europe, shooting continuously and having many important goals for the Reds in all competitions.
At the moment, Rashford is still MU's most important goal source, with 27 goals and 9 assists after 46 matches. He is far ahead of second-placed Bruno Fernandes, who currently contributes to 20 goals.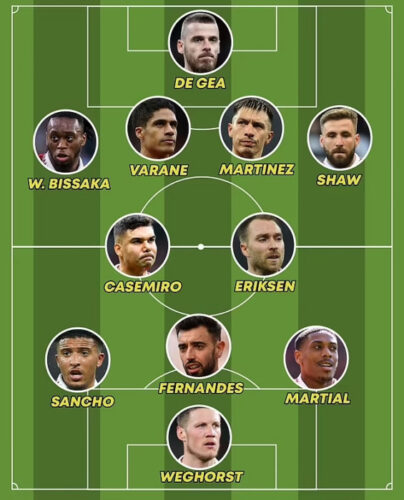 But like it or not, Mr. Ten Hag must find a way to fill the void left by Rashford. There are two options for him: one is a purely human replacement, which means putting a striker in the positions Rashford usually plays, and the other is changing the system (with the change of people, of course).
With the first choice, which means keeping the preferred 4-2-3-1 formation, Ten Hag can let Anthony Martial or Wout Weghorst kick in, Bruno Fernandes on the attack and Sancho and Antony on the flanks.
In addition, Mr. Ten Hag can also choose to switch to a 4-3-3 formation. Then basically the three names on the attack will not change with Martial or Weghorst (most likely Weghorst) playing the highest and supporting them on both sides are Sancho and Antony.
In midfield, the return of the duo Casemiro and Eriksen is very timely. Casemiro will kick the lowest at the anchor position, and Eriksen and Bruno will play as 8s. This is the diagram that many MU fans want to see, but coach Ten Hag is still afraid to use it because if the 8s are not mobile enough. Casemiro is vulnerable to isolation.
Either way, the coming days of MU will be very difficult, but it is also worth the wait…