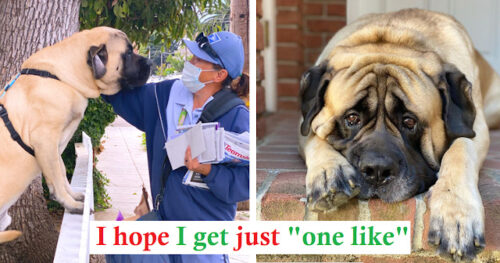 Fronky, a Bull Mastiff weighing 160 pounds, has found an unlikely best friend in his mail carrier, Shaun.
Every day, Fronky eagerly awaits Shaun's arrival, and his excitement is palpable when she finally arrives at his house.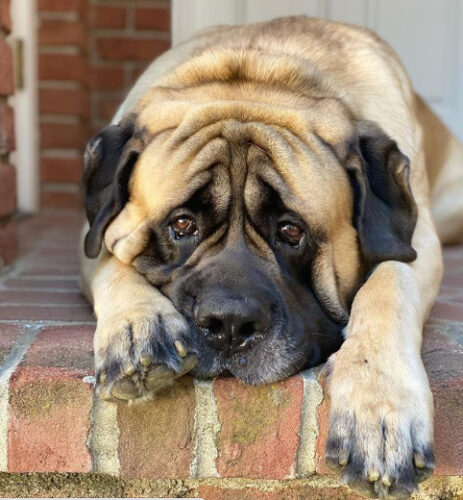 According to Fronky's mother, Eileen, the dog has developed a daily ritual of waiting for Shaun.
He stands at the door, begging to be let out, and once in the front yard, he sits and waits for his friend. If Shaun takes too long, Fronky becomes agitated.
Despite his size, Fronky is a gentle giant who always stays on his side of the fence.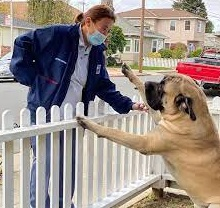 Shaun is able to give him plenty of pets and cuddles, which Eileen believes helps her cope with the loss of her own chocolate lab.
Hill's Pets notes that Fronky's affection for Shaun is unusual for his breed.
However, it's not uncommon for dogs to form strong bonds with their mail carriers or other delivery personnel.
These workers often visit the same houses every day, and dogs can become familiar with their schedules and routines.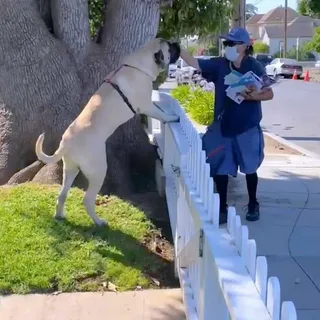 For Fronky and Shaun, their friendship has become a cherished part of their daily routine.
Shaun has become a member of Fronky's family, and they all look forward to seeing her every day.
In conclusion, Fronky and Shaun's story is a heartwarming reminder of the special bonds that can form between humans and animals.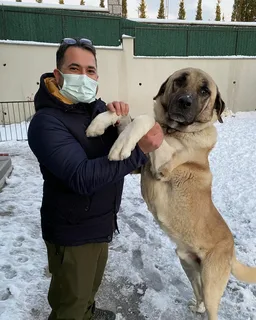 Whether it's a mail carrier, a neighbor, or a family member, dogs have a unique ability to form strong connections with those around them. And for Fronky, there's nothing quite like the joy of waiting for his best friend every day.