In the world of travel, friendships can blossom unexpectedly, forging connections that warm the heart and create lasting memories. Stanley, an adventurous puppy, embarked on a journey to Cornwall with his human companion, Melanie Talbot, seeking to savor the delights of this picturesque destination.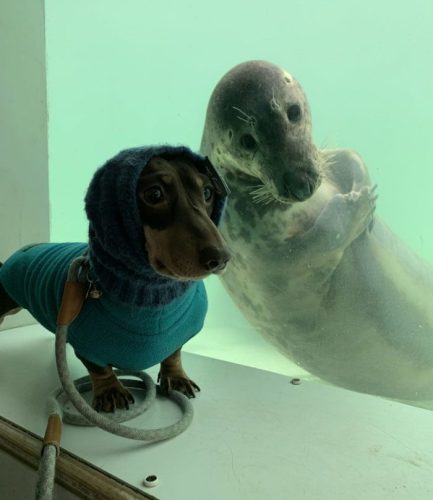 Little did they know that their visit to the Cornish seal sanctuary would lead to an extraordinary encounter that would capture the hearts of all who witnessed it.
As Stanley entered the underwater viewing area at the sanctuary, his keen eyes were drawn to a fellow furry friend, Aayla, a seal pup residing at the sanctuary. The two kindred spirits locked eyes through the glass partition, and a delightful friendship was born. Their interaction was a heartwarming spectacle that left onlookers exclaiming with joy and delight.
Aayla, it seems, is no stranger to canine companionship, often frequenting the underwater viewing area to interact with dogs and humans alike. However, her connection with Stanley seemed particularly special. Perhaps Aayla mistook Stanley for another seal, as he sported a pup jacket with his ears tucked in, resembling a playful sea creature.
According to Georgina Shannon, a staff member at the Sea Life Trust Cornish Seal Sanctuary, "I think she was truly interested in him! You can see from the photos, she was really intrigued by him and spent a long time looking at him through the glass." Indeed, the captivating images of their encounter quickly went viral, touching the hearts of people worldwide.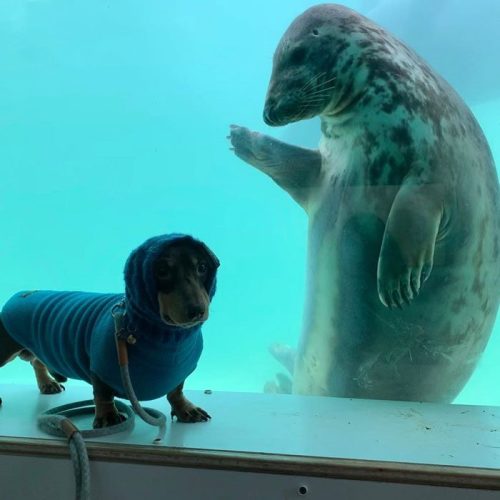 Aayla's journey to the sanctuary began when she was rescued from Bacton in 2017, finding refuge in this haven in 2018 with the hope of a permanent home. Melanie, Stanley's owner, expressed that their friendship was instantaneous. The two friends playfully tapped their noses against the glass, sharing secrets only they could understand.
Stanley's vacation in Cornwall became an unforgettable experience, not just because of the picturesque scenery but also because of the precious friendship he discovered. Aayla and Stanley, two different species brought together by fate, serve as a heartwarming reminder of the beauty of unexpected connections and the bonds that transcend boundaries.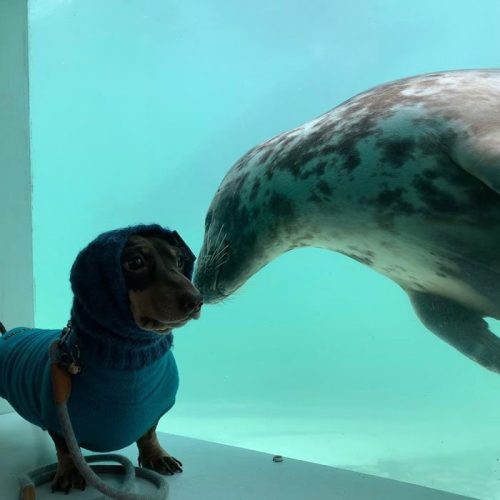 In a world that often seems divided, their friendship shines as a symbol of unity and the universal language of love.