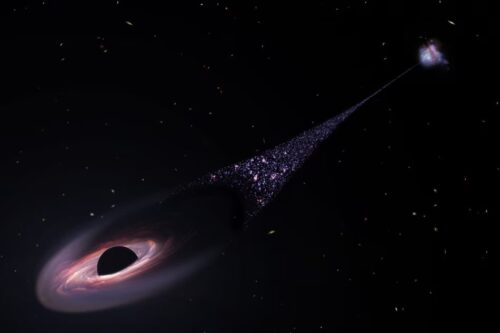 NASA's Hubble Space Telescope has made an astonishing discovery, capturing a supermassive black hole hurtling through space, leaving behind a remarkable trail of newborn stars. Weighing as much as 20 million Suns, this celestial phenomenon has created a condensed trail of stars that stretches over an incredible distance of 200,000 light-years. This intriguing finding provides valuable insights into the complex relationship between black holes and star formation.
The Stellar Phenomenon
According to NASA scientists, the supermassive black hole observed by the Hubble Telescope is moving at an extraordinary speed, outpacing everything else in its vicinity. In fact, its velocity is so remarkable that it could traverse the distance between Earth and the Moon in a mere 14 minutes. As this enigmatic black hole races through intergalactic space, it leaves behind a remarkable wake of star formation.
Researchers from Yale University, led by Pieter van Dokkum, have theorized that this wake is formed as the gas in its path cools down, enabling the formation of new stars. The wake behind the black hole is akin to the trailing waves seen behind a ship as it plows through the water. This unique phenomenon captured by the Hubble Telescope offers a rare glimpse into the aftermath of a black hole's journey through space.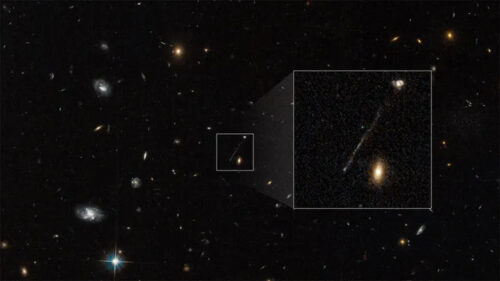 The Astounding Dimensions
The trail of newborn stars left behind by this supermassive black hole is nothing short of awe-inspiring. Stretching over an astounding distance of 200,000 light-years, the trail measures twice the diameter of our very own Milky Way galaxy.
This mind-boggling expanse emphasizes the immense power and influence that supermassive black holes possess. Their gravitational force shapes and molds the surrounding environment, leading to the formation of stars even in the wake of their rapid movement.
Implications for Astrophysics
The discovery of a supermassive black hole leaving behind a trail of newborn stars has significant implications for our understanding of astrophysics. It challenges existing theories and prompts new questions about the relationship between black holes and star formation.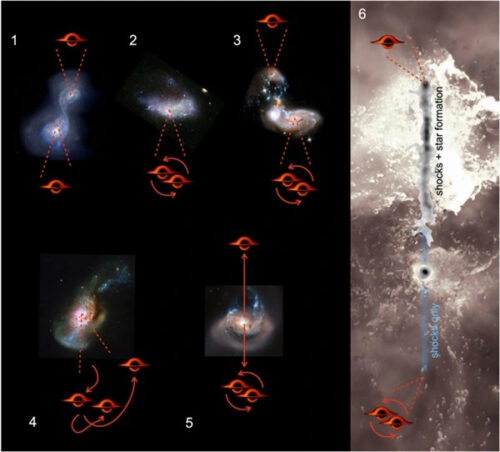 Traditionally, black holes have been viewed as celestial objects that consume matter and energy, inhibiting star formation in their vicinity. However, the Hubble Telescope's groundbreaking observation suggests that the wake behind a black hole can foster star birth. This finding implies that black holes can play a more intricate role in galactic evolution than previously thought.
Future Observations and Studies
The accidental discovery of this runaway supermassive black hole and its remarkable star-forming trail has opened up exciting avenues for further research. Astronomers and astrophysicists around the world are eager to delve deeper into this phenomenon and explore its implications.
Future observations using advanced telescopes and instruments will enable scientists to study similar occurrences and investigate the conditions necessary for star formation in the wake of black holes. By unraveling the intricate mechanisms behind this celestial ballet, we can expand our knowledge of the universe and gain valuable insights into the complex processes that shape galaxies.

NASA's Hubble Telescope has captured an astonishing sight—an enormous supermassive black hole racing through space, leaving behind a sprawling trail of newborn stars. This unexpected discovery challenges our preconceived notions about the relationship between black holes and star formation. By shedding light on this enigmatic phenomenon, scientists are pushing the boundaries of astrophysics and unraveling the secrets of our vast universe.